Full-Service KITCHEN DESIGN & REMODELING
Get Started
THE MOST POPULAR ROOM IN THE HOME JUST GOT BETTER.
Ready to Remodel Your Kitchen?
A Kitchen Remodeling is one thing we might all be engaged in sooner or later when owning a home in Connecticut, and is definitely the most beneficial investment when considering both everyday use as well as improving the resale value of your home.
Creating a kitchen design that accommodates the way you live, cook and entertain is important and that's where having an experienced kitchen designer can really make a difference. A great kitchen design should not only look amazing but also improve the function and flow of the room. This can include such things as: reconfiguring or adding countertop space, incorporating islands with storage and considering placement of appliances.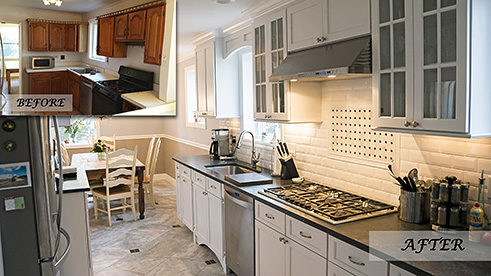 Good Design Can Happen No Matter the Budget.
Whether you have a 450 square foot condo or a 4,500 square foot house or more, Sunny House provides complete remodel design services. Our unique and signature design packages make it easy for you to get started and stay on track throughout a remodel.
Our 3D designs will help you to visualize you new Kitchen. Our designer will create a professional CAD drawing and generate realistic image for your review.
This helps you to visualize the finished project so you know exactly how your finished Kitchen will appear! You can now see your Kitchen design and color combinations in full 3d view.
We understand that no matter how good your kitchen looks, if it doesn't function well for your needs or is beyond your price range, you probably won't be happy with it. That's why we approach each design with three primary considerations: function, budget, and aesthetics. Our ultimate goal is that you get exactly the kitchen you want, with no surprises.
---
Get Started Today!
We specialize in kitchen remodeling in southern Connecticut and building low, medium, and high end kitchen remodels all over Fairfield county.
Because we manage every step of the kitchen design and remodeling process, you don't have to wonder about how your budget is spent or whether your project is on schedule. Our in-house team keeps you in the loop from start to finish, so you can worry less about surprises and go on living.
We know what it's like to live with a kitchen under construction, so we make the process as unobtrusive and streamlined as possible. Our comprehensive design/build services ensure that the remodeling process is as smooth, simple and satisfying as it should be.
Ready for your own dream kitchen?